Architecture
Rebecca Guarda brings to her clients over twenty years of architectural expertise with an emphasis on innovative designs and successful adherence to client needs, timelines, and budgets. She has served as design architect and did project management on a full range of building types — from high-end residential to complex fast-track government projects. These include schools as well as county and federal office buildings that fully met strict deadlines and budgets. She ran her own firm in Florida for seven years and has recently relocated to Northern California. Her qualifications include LEED accreditation, Permaculture Design certification, and architectural licensing in California, Florida, and Tennessee.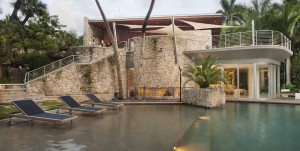 Rebecca was born in Rome, Italy, and relocated to the United States in 1979. She attended Rhode Island School of Design where she received both a Bachelor of Fine Arts and Bachelor of Architecture in 1992. She continued her studies at Miami International University of Art & Design where she received a Masters of Fine Arts in 2006 and taught color design as well as perspective drawing.
Rebecca has maintained an active artist practice throughout her architectural career by creating large scale art installations and sculpture that often serve as an experimental platform to enrich her client's designs. Her current interests have focused on a sustainable living and community outreach with an interest in serving like minded clients.
These are some projects she has worked on.