Installations
Click on an image thumbnail to launch the gallery; clicking the image in the gallery will dismiss the gallery. Selecting the PicLens view will launch a Flash slideshow — you can exit the slideshow by clicking the X in the top-right corner.
Pink
Surveying/flagging tape/mixed media, 20 ft x 15 ft x 8ft, 2005.
The lobby of 801 Projects' building was covered with pink ultra glow surveying/flagging tape, creating a pink tunnel. The overall assembly took on the characteristic of a weaving loom or a harp and was amplified by its reflection in the existing lobby mirror. Since the material is very light, it trembled and oscillated as the ceiling air conditioning register blew air and as the elevator doors opened and closed as air passed through the space.
Labyrinth
Driveway reflectors, 50 ft. in diameter x 30 ft., 2005.
Over 500 driveway reflectors were installed in Miami's Lummus park in the form of the Chartres cathedral circular labyrinth.
Fins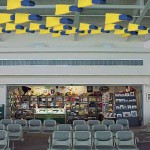 Rubber snorkeling flippers and cable, 38 ft x 50 ft x 12 in, 2006.
The installation for Bight Ferry Terminal ceiling proposed 500 suspended pairs of yellow fins grouped to resemble a school of fish entering the City of Key West.
Glowchair
Inflatable flating chairs in pool, 50 ft x 75 ft x 4ft, 2006.
The swimming pool of the West Palm Beach Hotel Biba was filled with a floating grid of inflatable chairs that shifted with the breeze and whimsically juxtaposed the man-made with nature. Covered with reflective stars, the mass of chairs began to glow as the evening appeared, creating a playful reference between water, air and the night sky.
Windspinner
1000 Nylon windspinners on wall, 31 ft x 15 ft x 8 in, 2004.
100 triple windspinners covered the façade of the Miami World Arts Building for it's inaugural opening of the Edge Zone Gallery.
Retablo
Oil on canvas, 8 ft x 6 ft, 2002.
Over fifty portraits of a childhood marionette were created over a span of ten years. These were assembled as a single work inspired by the iconic Fabiola portraits.
Dogwalk
Acrylic on wood, 4 in x 75 LF, 2005.